When editing the users within your team you have the option to assign 3 different roles to them.
Default Permissions
When you first sign up to ServerAuth, the 3 roles will have the following permissions.
Member
This the lowest role within ServerAuth, a user with this role has access to manage their own SSH Keys and view the servers within your team. They do not have access to create servers or grant / revoke access to servers. This role will likely be used for most of your team.
Manager
This is the next role up, a user with this role has access to everything the Member does but with the added permissions of being able to invite new people to the team, create servers and grant / revoke access to the servers within your team. This role will be best suited to the team leaders within your organisation.
Admin
This is the highest role you can assign someone, this user has access to everything the Manager does but with the added permissions of managing the billing information, the subscription plan and the ability to manage Team details. When creating a team, you are automatically given the role of Admin.
Changing Permissions
While the name of the roles are currently not editable, ServerAuth lets you customise the permissions for each of these roles. If your role has Can manage role permissions checked, you will be able to access the role management page within the Team section.
PLEASE NOTE If you uncheck the permissions to manage critical things such as billing information or role permissions, you may lose access to this entirely and have to contact us to reinstate it.
How to change permissions
If you have the correct permissions as mentioned above, Click the "Team" link in the top menu. This takes you to the "Team Management" section. In the left menu you should see an option to "Manage Roles".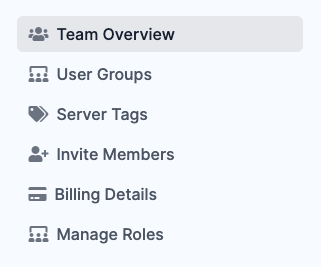 Click manage roles, and you be presented with the 3 available roles, click the one you wish to manage and the current permissions will appear. Check and uncheck the permssions as required then press Save.