Server Management for Web Agencies
Take the hassle out of managing your server infrastructure and server access.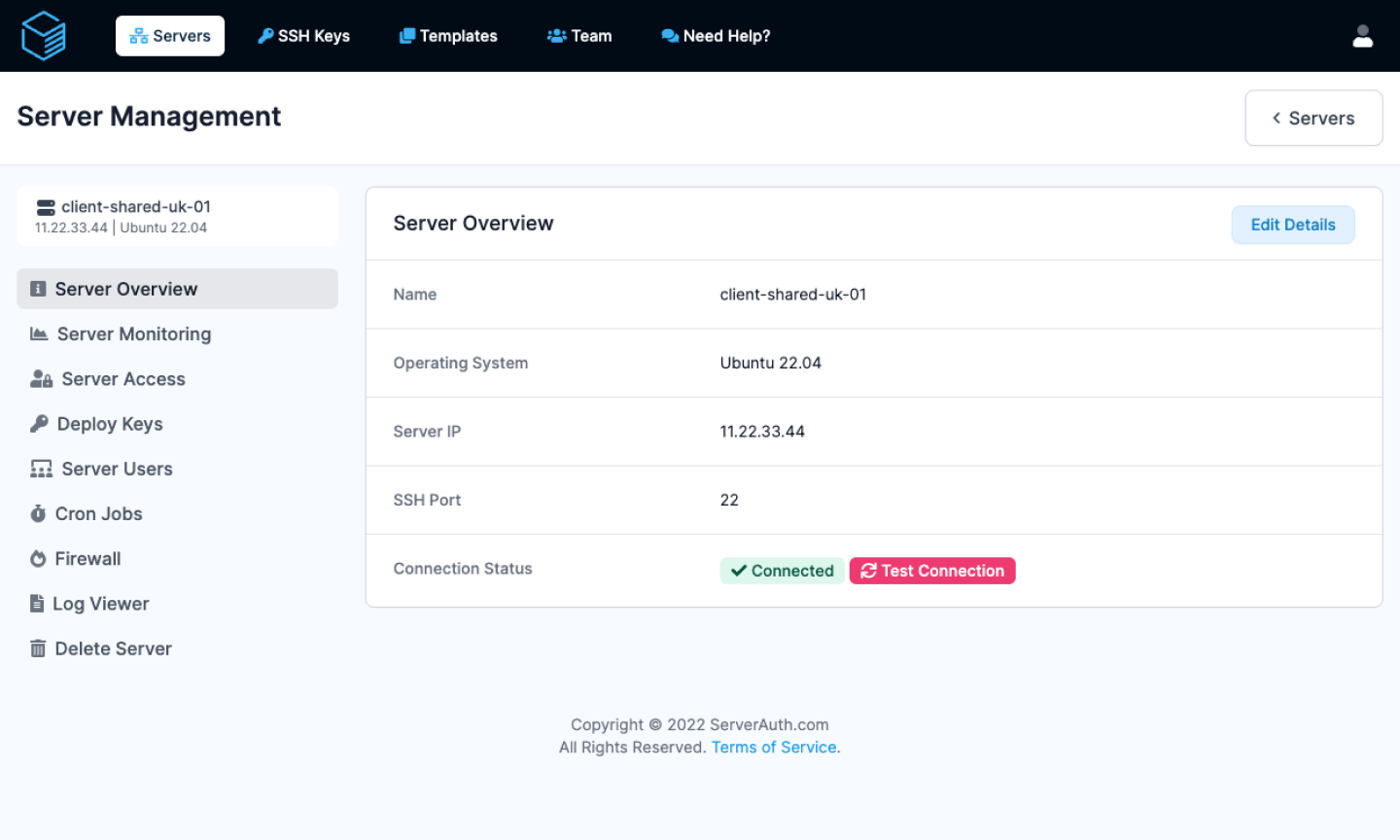 As a web agency, you've often not got time or a dedicated staff member to manage your servers. Keeping up with important tasks such as server updates, firewall changes, and managing who in your team has SSH access can be a time-consuming challenge.
ServerAuth helps make this process easy, with options to manage SSH access, Firewall rules, view server logs, manage server users, create cron jobs, and more.
Server Management Features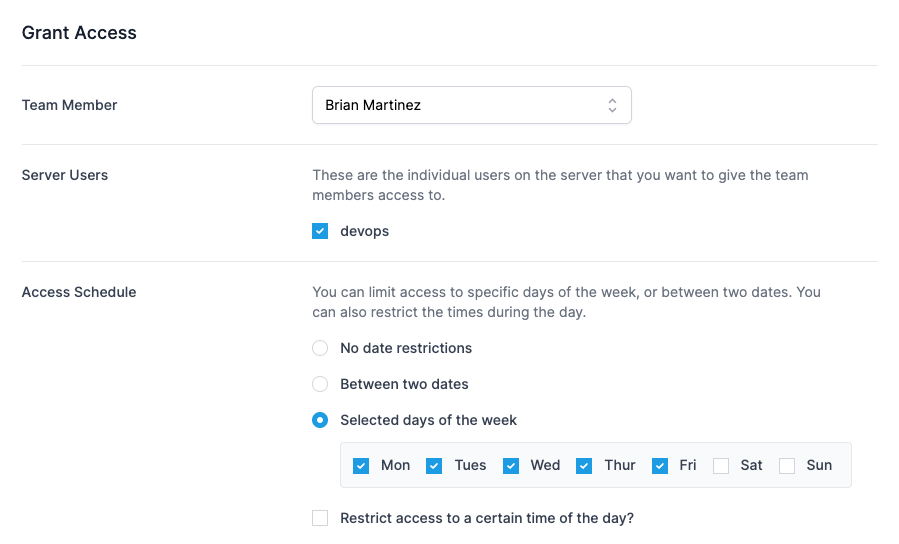 Ideal for teams
SSH Access Management
Control which developers in your agencies team can SSH into your servers.
With scheduled access controls, you can ensure your dev team are only granted SSH access to the servers they need access to, and only during business hours.
Working with a freelancer? Allow access between specific date periods for the project they're working on at the click of a button.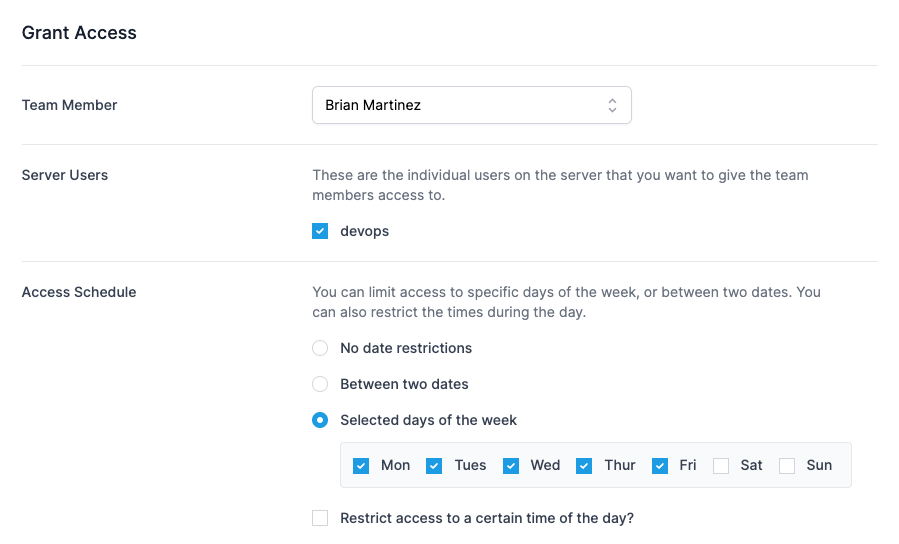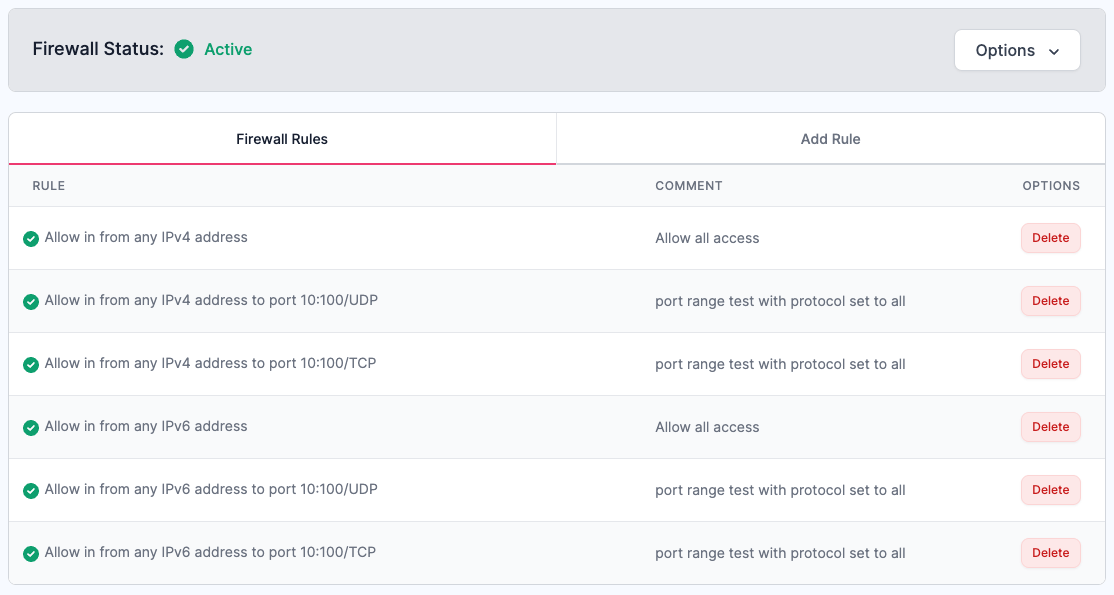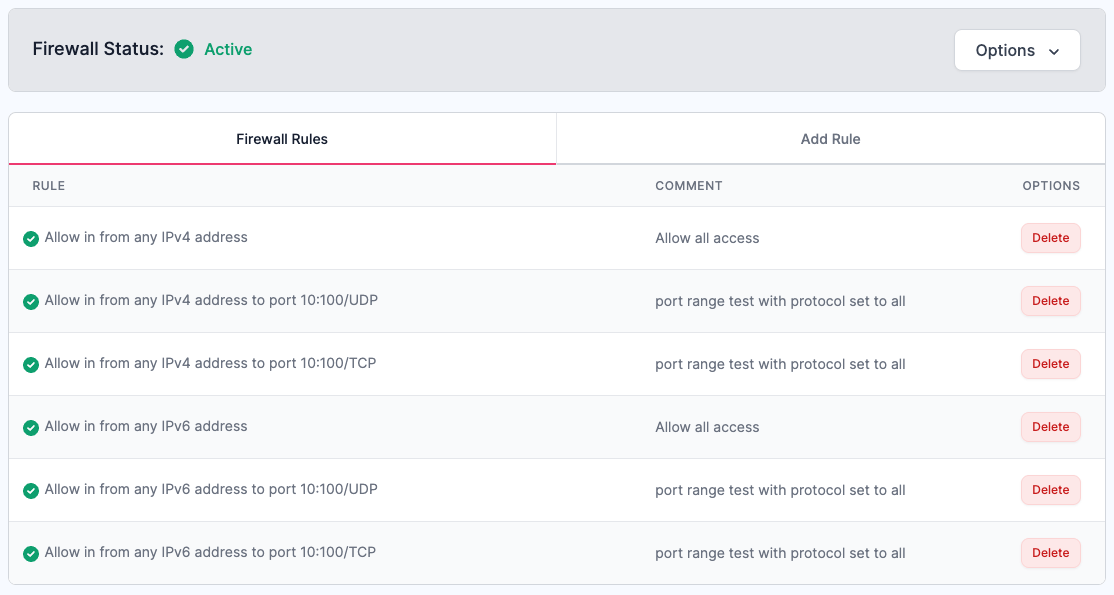 Server Security
Manage Firewall Rules
Create and manage your server's firewall rules, with options to block access to IP addresses, or restrict access to specific ports.
The intuitive user interface provides convenient Firewall Management without needing to manually SSH into your server to set up new rules.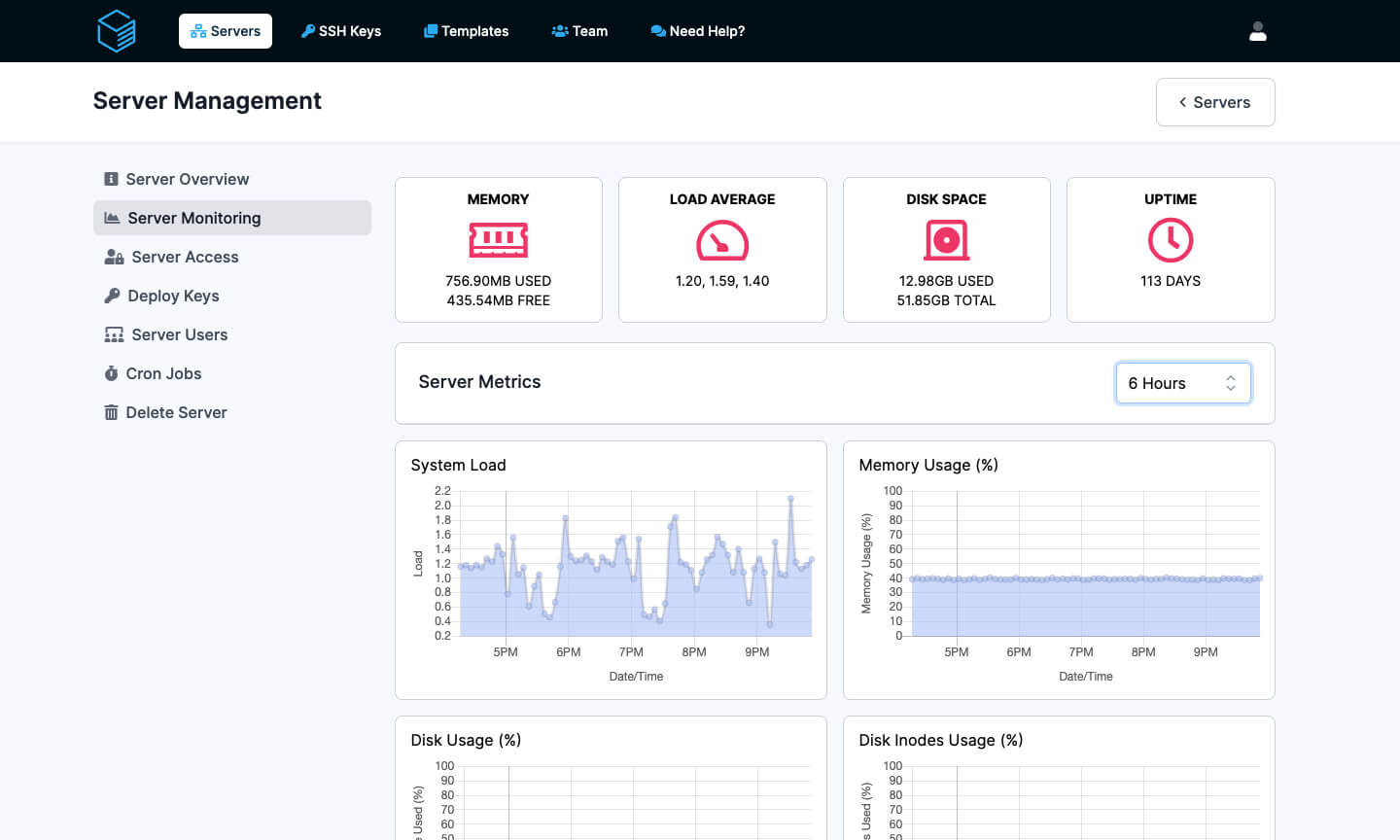 Server Health
Monitor your server resources
Keep track of what's going on with your servers with Server Monitoring.
Track key metrics such as CPU load, memory consumption, and disk space usage, as well as view historical performance data for the last 14 days.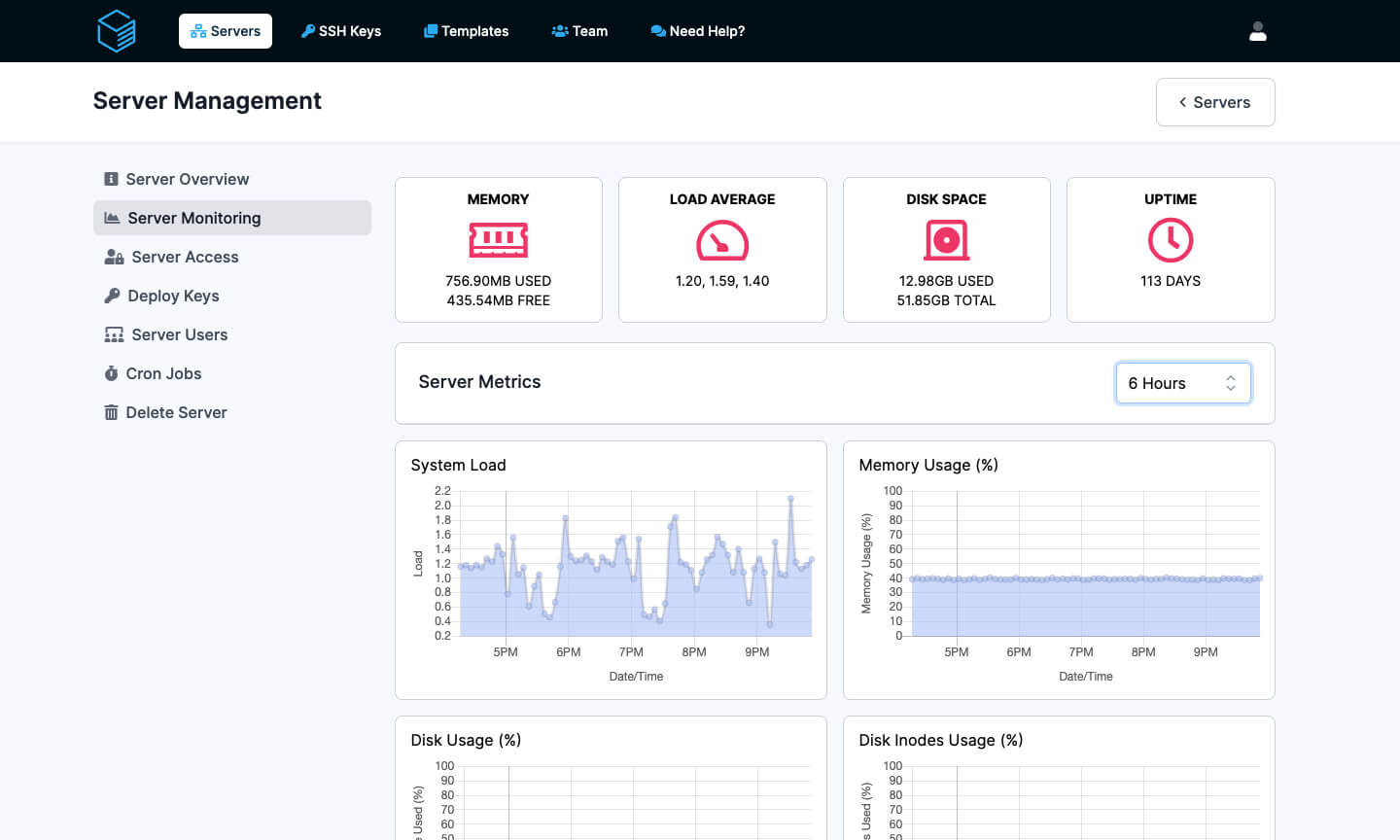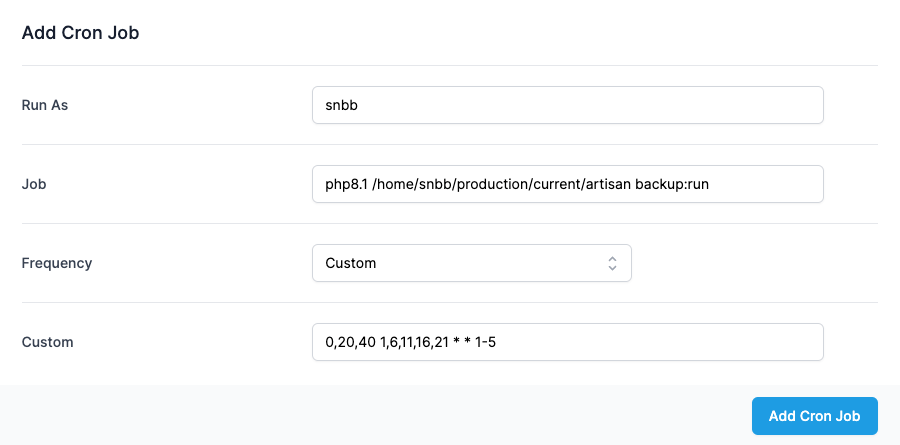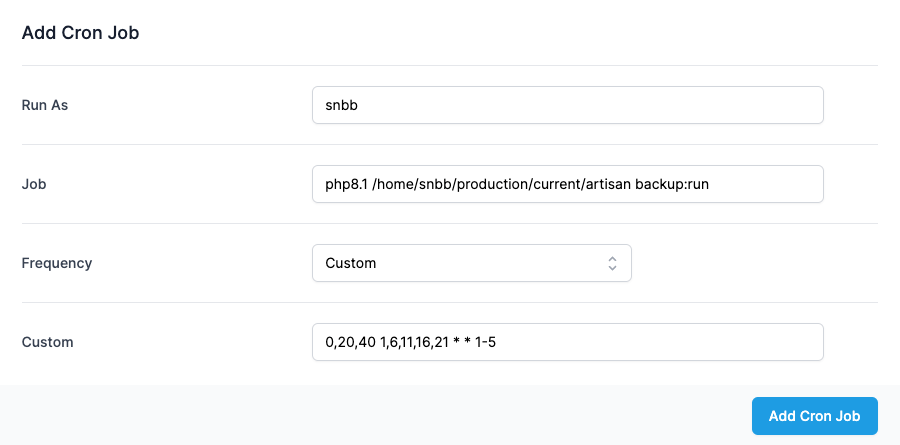 Scheduled Tasks
Manage Cron Jobs
Manage all the Cron Jobs on your server with ease from our web interface. One of the hardest things with Cron Jobs is remembering the syntax for the cron expression. Our easy-to-use panel provides a simple drop-down for common options with the ability to also define a custom expression.
The straightforward interface makes managing the Cron Jobs on your server effortless!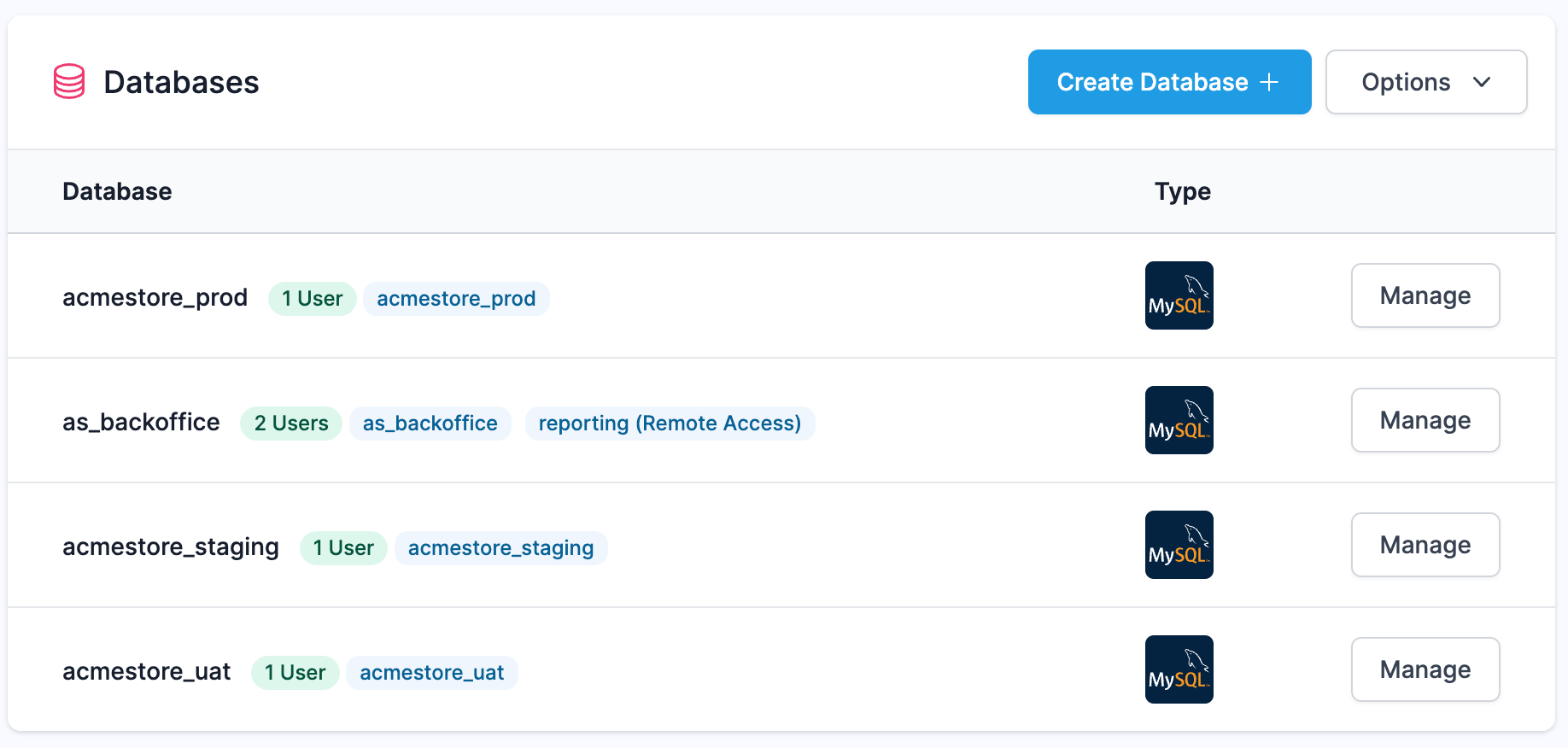 Database Management
Manage your MySQL Databases
Our MySQL database management feature allows for easy 1-click-installation and management of MySQL on Linux-based servers. Create and manage databases and users all from the convenience of our web interface.
In addition to managing databases and users, our database management feature also allows you to manage remote MySQL user access.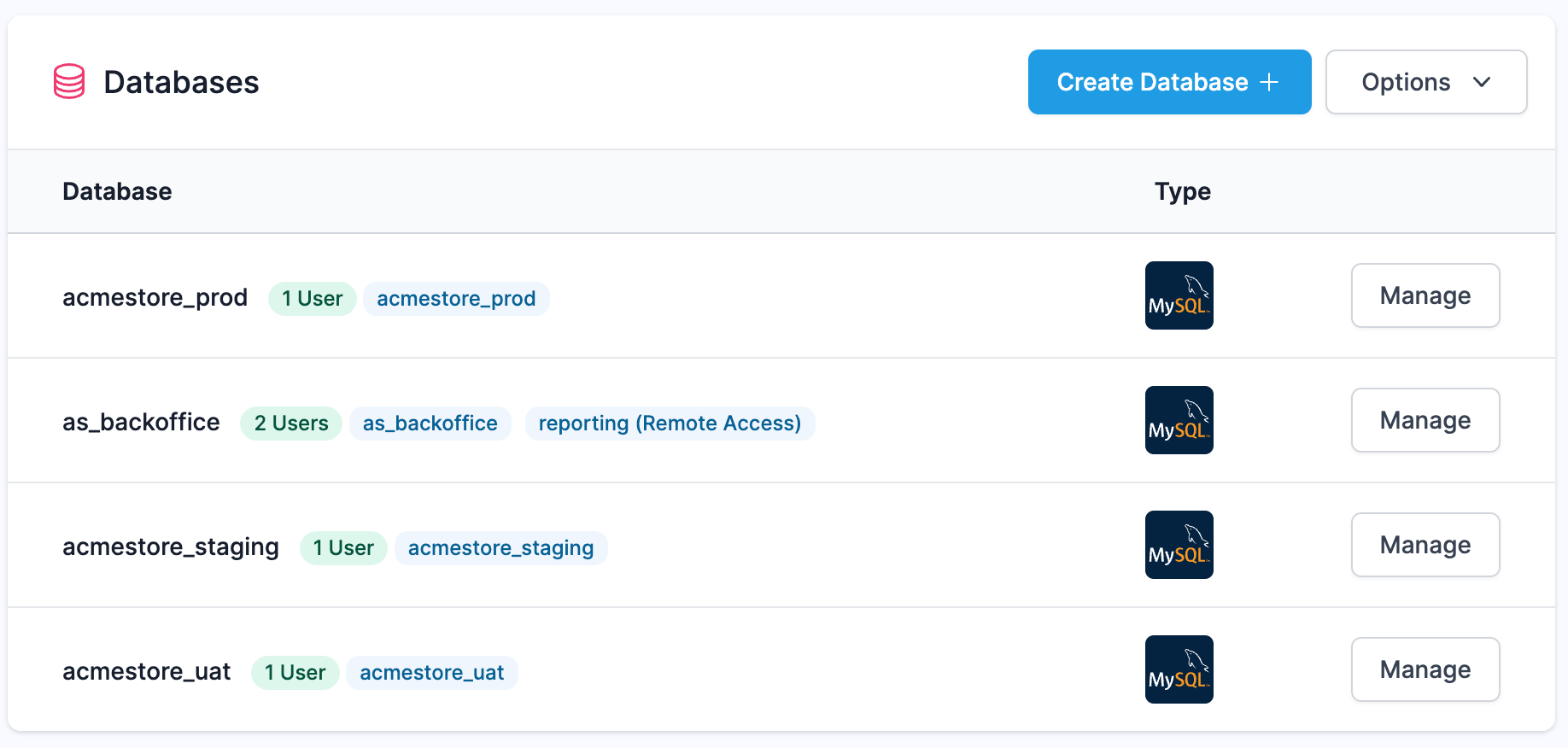 Team SSH Access Management
Ensure only your current staff have server access, and only when you want them to.
Managing SSH keys across your team can be a pain. If you've got multiple servers, you'll usually need to manually add each team member's SSH key, and if someone leaves the company you've got to do the whole process in reverse! As your business grows this can end up costing serious time, and inevitably someone will forget to remove a former team member's key, leaving your servers and sensitive client data exposed.
ServerAuth provides an easy way to manage SSH keys for your entire development team, allowing you to specify who can access each server, and for how long.
If you regularly use freelancers you can set their access to only work within a given timeframe. You can also ensure your staff only have access during working hours.
Read more about our SSH Access Management.
How does it work?
Use ServerAuth with your existing servers, with no complex or time consuming setup process.
Each server is added to your ServerAuth control panel, and your development team then has their own account, where they can both manage their SSH Keys and access any additional ServerAuth features you enable on their account. Team leaders can then grant access to the specific servers you want each developer to have access to. Deploy keys for services like Github can also be managed from your ServerAuth account.
ServerAuth works with your existing servers, with no custom software or complex setup process required.
We created ServerAuth after experiencing the frustration of managing a range of servers in a web agency, with team members needing tasks performed and only a select few staff being experienced enough with server management to do these for them.
By providing a range of the most common server management tasks in an intuitive user interface, your agency can save time and money, and you no longer need to rely on dedicated staff to handle your server management tasks.
Server Management & Security doesn't have to be a full time job.
ServerAuth provides a whole host of management tools, from controlling who can access your server, to adding cron jobs, securing your servers and installing packages. And with an ever growing suite of tools you'll always be one step ahead!
Start for free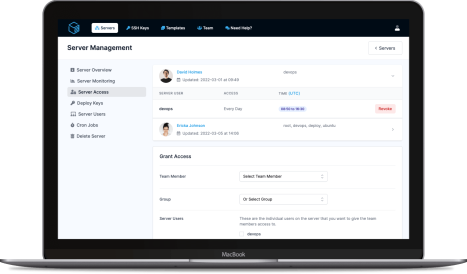 Server Management & SSH Security Software
Copyright © ServerAuth Ltd
Registered in England No. 13996293
All Rights Reserved.
ServerAuth
The Legal Bits